In general, people begin to use drugs for several reasons:
To feel good. Most of the drugs that are abused produce intense sensations of pleasure. This initial feeling of euphoria is followed by other effects, which vary according to the type of drug consumed. For example, with stimulants such as cocaine, the feeling of euphoria is followed by feelings of power, self-confidence and greater energy. In contrast, the euphoria caused by opiates such as heroin is followed by feelings of relaxation and satisfaction.
To feel better. Some people who suffer from social anxiety, disorders related to stress and depression, begin to abuse drugs in an attempt to diminish feelings of anguish. Stress can play an important role in the initiation of drug use, continuity in drug abuse or relapse in patients recovering from addiction.
To perform better. Some people feel pressure to chemically increase or improve their cognitive abilities or sports performance, which may play a role in the initial experimentation and continued abuse of drugs such as prescription stimulants or anabolic / androgenic steroids.
Curiosity and "because others do it." In this regard, adolescents are particularly vulnerable, due to the strong influence of peer pressure. Adolescents are more likely than adults to engage in risky or reckless behavior to impress their friends and express their independence from parental and social norms.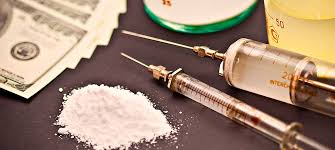 Admin




Mensajes

: 8


Fecha de inscripción

: 04/03/2018




If using drugs makes people feel good or better, what is the problem?





If using drugs makes people feel good or better, what is the problem?
When they consume a drug for the first time, people can perceive what appear to be positive effects; They can also believe that they can control their consumption. However, drugs can quickly take over a person's life. Over time, if drug use continues, other pleasurable activities become less pleasant, and drugs become necessary for the consumer to feel "normal." Then, they may compulsively seek and use drugs, even though They cause tremendous problems for them and their loved ones. Some may begin to feel the need to take higher or more frequent doses, even in the early stages of consumption. These are the telltale signs of an addiction.

Even relatively moderate drug use poses risks. Think of the way in which a social drinker can get drunk, get behind the wheel of a vehicle and quickly convert a pleasant activity into a tragedy that affects many lives.

Is continuous drug abuse a voluntary behavior?
In general, the initial decision to use drugs is voluntary. However, with continuous consumption, a person's ability to exercise self-control can be seriously affected. This deterioration in self-control is the hallmark of addiction. Brain imaging studies of people with addictions show physical changes in areas of the brain that are essential for judgment, decision making, learning and memory, and behavior control.7 Scientists believe that these changes alter the way they think. The one that works the brain and can help explain the compulsive and destructive behaviors of addiction.
Admin




Mensajes

: 8


Fecha de inscripción

: 04/03/2018




---
Permisos de este foro:
No puedes
responder a temas en este foro.